(from the latest issue of the SolisPLC Automation Newsletter)
Hey there

Karim from SolisPLC here. The Automation Newsletter brings you the best resources for automation & control engineers like yourself. This includes the latest SolisPLC tutorials, industry news, PLC programming tips, and much more.
If you enjoy this newsletter, make sure to forward it to a friend, and let them know they can subscribe here.
Let's get started!
The Manufacturing Hub Episode

#004

!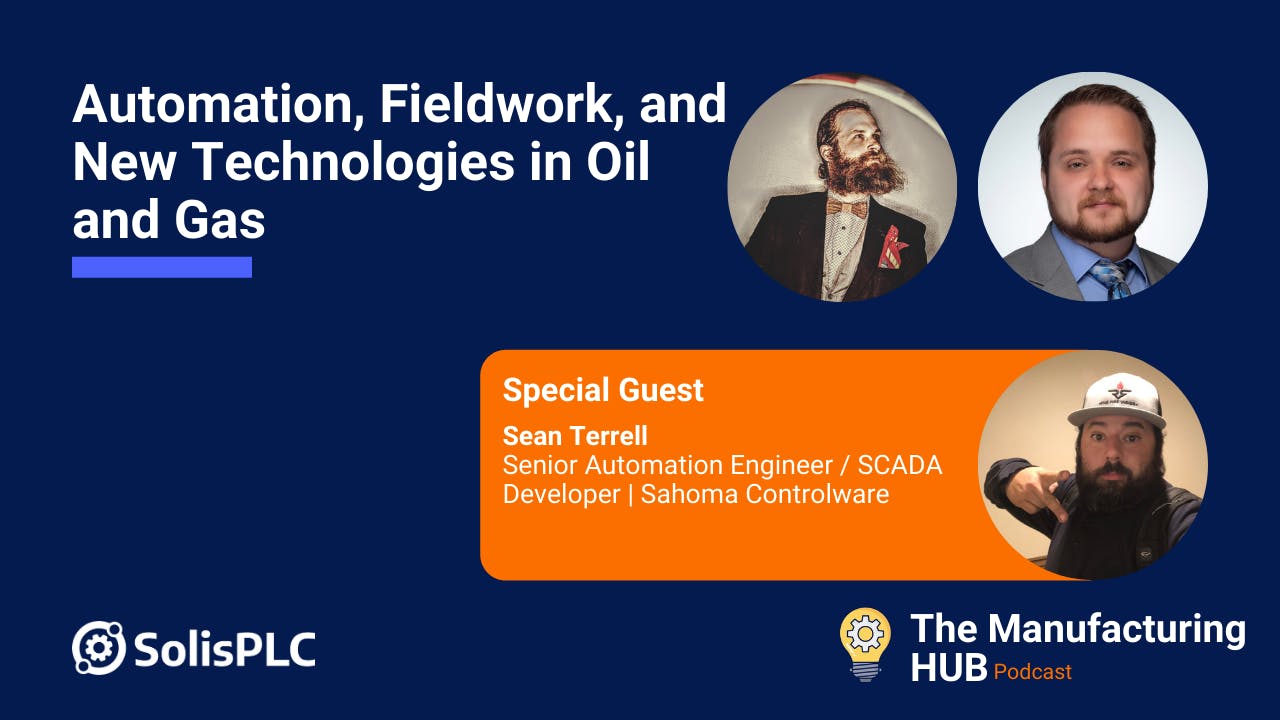 |IoT, Oil & Gas, Military Control Systems, PLCs, Codesys, and More: In the fourth episode of the podcast/stream, we receive a special guest: Sean Terrell. Sean has extensive experience as well as involvement in the manufacturing automation industry. He began his career as a technician on a US Navy submarine. Sean was quick to learn the electrical and communication systems and was offered a job designing guided missiles once he retired from the Navy. His knowledge of control systems brought him to the oil & gas industry where he currently works as a consultant and engineer.
You can find listen to this episode on Spotify, and Apple Podcasts.
All episodes are live-streamed on our Youtube channel and we do answer your questions. So make sure to subscribe to be notified about the next live stream.
P.S. If you like the podcast, and want to support it, make sure to leave us a review.
Industry News
Austin Energy shuts off power to major industrial users – Austin Energy's biggest customers – industrial users like Samsung, NXP Semiconductors, and Infineon Semiconductors – have all had their Austin operations completely shut down amid the freeze.
The Impact of Biden's Plan on Reshoring Trends – "Buy American" will borrow some strategies from the Trump administration in targeting China and fueling growth at home." FANUC and Rockwell Automation Form Coalition to Quickly Address Manufacturing Skills Gap with Robotics and Automation Apprenticeship Programs
New Tutorial
How To Program PID Loops In RSLogix 500 – In this tutorial, you will learn about PID loops, take a look at some of the typical uses, and finally run through an introduction of how to implement a PID loop in RSLogix 500.
Allen Bradley GuardMaster Safety Relay Wiring – Safety Circuits play an important role in industrial automation. Their main purpose is to protect the user from any physical harm. However, they keep the equipment from getting damaged as well. In this tutorial, we will take a look at the GuardMaster Dual Input safety relay paired with a SensaGuard safety sensor, understand the application it may be used in, the wiring scheme of both devices, and how they interact with each other.
[Video] MicroLogix 1100 RSLogix 500 External IO PLC Programming – in this tutorial you will learn how to connect an external IO expansion module to our MicroLogix 1100 series PLC. You will modify an existing RSLogix 500 program that was running on the PLC; add a structure for the input card that you select and logic that it tied to the same I/O points. Lastly, you will download the modified program into the PLC and test the I/O you added.
PLC Programming Tip💡
Object-Oriented constructs allow programmers to reuse code, hide proprietary implementations and increase the speed of programming identical or similar systems.
In the world of Allen Bradley Studio 5000 environment, the most important constructs to be aware of are the User Defined Data Type [UDT] and the Add-On Instruction [AOI]. The UDT allows the user to create custom data structures by combining basic ones while the AOI allows the user to create custom functions.
If you aren't comfortable with either one, we recommend the following resources to get up to speed:
Our Prices are Changing
To help us continue creating high-quality educational content and tools for engineers & technicians like yourself, starting March 1st, we will be increasing the price for our monthly and annual subscription plans.
If you're already a SolisPLC subscriber, your account will not be affected for as long as you remain on your current subscription plan. Please note: Should you cancel your plan at any time, we will not be able to honor your current price if you rejoin.
If you've been considering subscribing to SolisPLC, we recommend you do so before March 1st so you can lock in the lower price, after which the pricing change goes into effect. Click here to join.
What's Next?
Drop us a comment below and let us know what tutorials or courses you like us to create next.
New and wondering what is SolisPLC? We are where thousands of automation & control engineers come every day to learn PLC programming and industrial automation online. Check out our courses or get started learning for free today.
If you enjoyed this, please consider sharing it with a friend! If this was sent to you by a friend, get the next Automation Newsletter by signing up here.
With

from the SolisPLC team